What you need to use the app
To use the app you need a handheld device and a target image.
The app will work on IOS (IPhone & iPad) and Android (Samsung etc.) devices, not older than 2-3 years due to 3D-rendering demands. The optimal device would have a fairly big screen and a powerful processor, but we have successfully run it on iPhone 6 and older devices.
For the Interactive 3D section, just download the app and start explorer.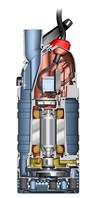 For the Augmented Reality (AR) section, you also need a "target image" to activate the cutaway view. The target image is available in Grindex Pump Handbook, page 5 (small size; works well when sitting at a table discussing features), in Grindex Big Book, page 23 (bigger size) and can also be downloaded and printed in various sizes up to full size of the pump.
To be printed on a A4 sized paper: shows the pump in 10% scale
To be printed on a A3 sized paper: shows the pump in 20% scale
Round mat, to be printed on a 58 x 58 cm sized paper: Shows the pump in full scale.
For best user experience
To get the best experience please make sure you have a target image of high quality, without wrinkles or folding's.
The orientation of the image is precise; if you turn the target, the 3D pump will turn too, and you can look at it from any angle.
On iPhone we successfully have been using "Air Play" thru an Apple-TV to display the presentation wireless on a big screen or a projector in training courses or at trade shows. There are probably similar techniques available for the Android OS.
Please take some time to get acquainted with the tool before using it in your first presentation, you will probably find your own favorite way of using it.
You are also able to send usage statistics (time spent on each focus point) and comments of the presentation to us and an e-mail address of your choice. We are not collecting any information from you if you do not send it to us.
| | |
| --- | --- |
| Download the Apple iOS version | Download the Android version |
| | |