Drainage pumps
A drainage pump is the most commonly used pump type at construction sites. It is used for pumping water with less abrasive solids, like clay. Sand and solids in suspension can also be pumped, up to the size of the strainer holes (normally 7-12 mm). As sand is quite abrasive to the pump, it must not be too concentrated.
Sludge pumps

Sludge pumps are suitable for pumping water with solids, as well as for pumping sludge. The solids can be up to the size of the pump inlet diameter (normally 32-80 mm).
Stainless steel pumps

Pumps made of stainless steel are often used in copper mines, gold mines and other applications with corrosive fluids. An aluminium pump can handle water with pH values from 5-8, while a stainless steel pump can cope with pH values from 2-10.
Slurry pumps

Slurry pumps are designed to handle abrasive solids in suspension, like sand, gravel and concrete, in high concentration. They are also frequently used to move sand in suspension, i.e. at a dredging operation. To cope with the abrasives, the hydraulic parts of a slurry pump are often made of a very hard metal alloy. For improved performance, slurry pumps are generally equipped with an agitator.
Plug and pump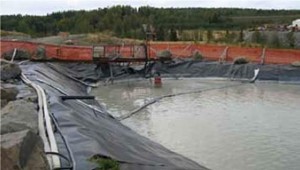 An electrical submersible pump is easy to use, just plug it in and pump. Several small pumps, placed where the need is for the moment, can pump the water to a dedicated collecting pit through long hoses. As the smaller pumps only weigh 15-25 kg, you can carry the pump with you to work at different spots at your site.
In the collection pit, a bigger pump is installed and pumps the water away from the site. By connecting hoses from several pumps to the pit, you can easily dewater a large area with just a few pumps.