Grindex continue transition to the new ISO standard
ISO 9001 is a standard that sets out the requirements for a quality management system. It helps businesses and organizations to be more efficient and improve customer satisfaction.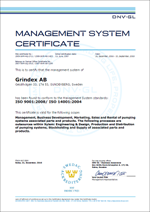 Grindex is ISO-certified and a copy of the certification can be found under our quality section.
In 2015 new versions of the standards ISO 9001:2015 Quality and ISO 14001:2015 Sustainability were released. ISO standards are reviewed every five years and revised if needed.
This is how ISO presents the new standards in a short version:
"The challenges faced by business and organizations today are very different from a few decades ago and ISO 9001 has been updated to take this new environment into account. For example, increased globalization has changed the way we do business and organizations often operate more complex supply chains than they did in the past. In addition, there are increased expectations from customers and other interested parties and, with more access to information; today's wider society has a stronger voice than ever before. ISO 9001 needs to reflect these changes in order to remain relevant."
The most noticeable change is that the standard now has a new structure. ISO 9001:2015 and ISO 14001:2015 now follow the same overall structure as other ISO management system standards. Some of you might have heard it mentioned as the High-Level Structure. When having the same structure on all standards, it is making it easier for anyone using multiple management systems.
Another major difference is the focus on risk-based thinking. While this has always been part of the standard, the new version gives it increased importance.
The new standards also require us to have a mapping of which our stakeholders are and what we communicate with each stakeholder, as well as how we do it.
Some of the benefits from the new standards to us as a user:
Puts greater emphasis on leadership engagement
Helps address organizational risks and opportunities in a structured manner
Uses simplified language and a common structure and terms, which are particularly helpful to organizations using multiple management systems, such as those for the environment, health & safety, or business continuity
Is more user-friendly for service and knowledge-based organizations
Greater protection for the environment, with a focus on proactive initiatives
More effective communication, driven through a communications strategy
Life-cycle thinking, considering each stage of a product or service, from development to end-of-life
To maintain our certification to ISO 9001, Grindex is upgrading the quality management system to the new edition of the standard. We will continue the improvement process towards the new standard and keep all stakeholders updated.