Skanska
Stockholm, Sweden
Pumps: Keep it clean - pumping on a green building site
With an area of around 15,000 m2 to keep free of water for up to 2.5 years during demolition, blasting and levelling, and construction, Swedish construction giants Skanska turned to Grindex for dewatering support. The project, which is considered a green building site, is part of a rejuvenation process ongoing in the western part of downtown Stockholm.
The green way to rejuvenation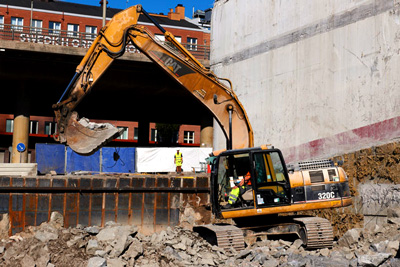 Commercial office space is at a premium in Stockholm city. However, in Kungsholmen the western part of the city, which is currently undergoing a rejuvenation process, one particular building was proving hard to fill. Built in the 1980s the rooms were cramped, lighting was poor and it was generally considered a poor working environment.
In 2010 work began on demolishing the building for a new, greener, more open building, that when completed will be the first office in Stockholm to be environmentally classified as Platinum, the highest level according to the international certification system LEED (Leadership in Energy and Environmental Design). Moreover, Skanska declared that the entire project would be a green building site with the aim of reusing or recycling 95% of the material.
Dewatering for the long-term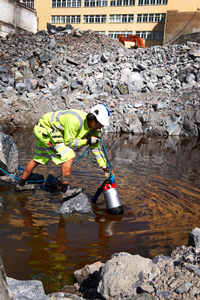 The project involves three stages - demolishing, blasting and levelling, and construction and will be ongoing for more than two years. At every stage of the process rain and ground water and building sediment must be constantly pumped away from the 15,000m2 site. The job is made more difficult as parts of the site are situated on a hillside. Not surprisingly, pumps that can withstand tough conditions over a long period of time are required.
"These pumps get a really rough deal," according to Tomas Fridell at Skanska. "They are left running for long periods of time, often dry running, and they are expected to handle anything that comes their way, whether it's sand, silt, rock, cement, or even the odd excavator! What's more, as the site evolves the pumps are constantly being moved around, something that can be pretty demanding in itself at a large scale construction site."
The right pumps for the right job
Half way through the demolition process in the first stage of the operation, four 3-phase

Minex pumps were brought in to help dewater the site. Once the site was completely cleared and blasting and levelling began one Master H, one 1-phase Minex and two 3-phase Minex Grindex pumps were put to work. These pumps are also being used in the construction stage of the operation. At every stage of the operation all the water has to be pumped up to a sump tank about 8 meters above ground level and from there it is dealt with in an environmentally friendly manner.
| | |
| --- | --- |
| Minex curve | Master curve |
| | |
A vital role
"Although the pumps only play a small roll in the project, it is a vital one," continues Fridell. "If the pumps don't perform the machines would grind to a halt, something that would be extremely costly both in terms of time and money. That's why we always make sure we have the best pumps for the job and see to it that there are a few spare, should we require extra pumping capacity, or if one needs servicing," he concludes.