Botnia Exploration
Fäbodtjärn', Sweden
"Now we're kicking off!" was the single phrase in an email sent to marketing@grindex.com, which caught our attention. Scrolling down we found the sender to be Swedish mining personality Bengt Ljung (resumé in fact box). Attached to the single-phrase email were a nice picture (shown) of a Grindex Minex pump and an Atlas Copco compressor in a typical small scale mining start-up in the north of Swedish Lapland, a site called 'Fäbodtjärn'.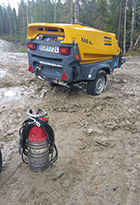 Since both Grindex and Mr. Ljung's Botnia Exploration are members of the "Swedish Mining and Tunnelling Group" we had no problem approaching Mr. Ljung to find a time in his busy agenda to explain a bit more about the background to the picture.


"Can you tell us some more about the picture you sent us?"
The picture was taken at a gold deposit called Fäbodtjärn when we were drilling last week, in order to complete the environmental impact analysis. We had to dig a trench of about 2½ meters wide, to take samples, and then restore the area in its original state. The work went well, faster than planned and I thought you'd appreciate the picture.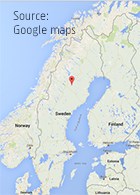 "What's so special about this site?"
This site is a great showcase to show the potential of small scale mining as opposed to the usual large scale projects. Botnia Exploration wants to show that it's possible to achieve economically viable mining methods, even on a small scale, that would allow for mining to continue to develop with much less environmental impact than large-scale projects would usually have. If we take a look at history, up until the 20th century most mining was small scale. There were 1000's of small sites. That approach was overwhelmed with the adoption of techniques that require large volumes and tonnages in the latter part of the last century. Right now, large scale projects are much more under environmental scrutiny, which limits their potential in the long run. Small scale mining - when done correctly by showing respect for the environment and native inhabitants - is much easier to integrate into an existing community. The Nordic countries have the added advantage that much of the infrastructure (roads, power etc.) is, to a large extent, already in place.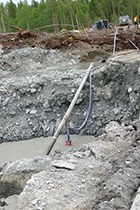 "How small scale is this site?"
The total tonnage at Fäbodtjärn is at the moment estimated at about 200 000 tons, where we expect to process at its height 100 000 tons per year. This can be compared to a large scale mine like Swedish LKAB iron-ore mine where this would represent half-a-day's production. The gold content however is one of the highest in Sweden, making this an economically sound investment for us.


"How did the pumps run?"
Ha ha, the pump ran fine. We ran into a typical problem though: at some point there wasn't enough water to keep the flow up and after shutting down the pump, the slurry in the discharge hose sedimented and solidified. We ended up throwing away that hose and I had to drive around the remote parts of Lapland in search of a new hose. But in the end we found one and we could continue after we'd fitted an extra strainer basket to the pump.


"What are the next steps at Fäbodtjärn?"
We have now finalized our environmental analysis and are submitting our exploitation license to the authorities later this year. Our company's shares did very well on the stock exchange last week, when the news and results of our finalized analysis came out and we hope to get a 'go' decision before next year May, to start exploitation. The season is short, from May to October, because we cannot interfere with the local reindeer herding. We will approach the 160 meter long ore vein from both sides at the same time, one open pit and one underground. We are also working together with the local university of Luleå that helps us with selecting processing methods that are optimized for economies-of-small-scale. The actual processing plant at the site is expected to be housed in a tent under the active production season. The proven deposits are good for 7 to 8 years exploitation, but that will certainly grow as we can only claim deposits that are based on actual drilling cores and confirmed by an independent third party. As we progress we can drill more and find more ore in those new holes.
"Good luck and please keep the pictures coming!"
Bengt Ljung (1941): Currently CEO for Botnia Exploration (BOTX) founded 2007. Bengt has a long international experience with well-known Swedish companies, including ABB, Atlas Copco, Nitro Nobel etc. He's on the board of LKAB's Wassara and Bergteamet. He is chairman of the Swedish Mining and Tunnelling Group that promotes the activities of Swedish manufacturers of Mining and Tunnelling equipment.