"We were missing everything! Koege lacked all the equipment to handle a situation like this, so we had no control at all, " Michael Munk explains, he is the Project Consultant at ETK, and has the main responsibility for municipal preparedness and tactical leadership. "We just barely manage the situation, because we collaborated with others," he says, adding that in a flood disaster situation like this his municipality is just one coastal municipality out of many, and suddenly everyone needs help at the same time, so there was not enough capacity to help everyone. After this disaster, ETK called Elmodan and got their own equipment.
Grindex is the top of the doll
Sometimes it takes a disaster before action can be taken. ETK was given an extra license to buy their own equipment so that the municipality could handle floods and large amounts of water in the future.
"Now action had to be made, and it couldn't be too quick," Michael Munk says. Together with his colleague Morten Jensen, he got the task of purchasing the necessary equipment for a similar situation.
"We needed big pumps, smaller pumps, in between pumps. Tubes, sandbags, hoses, everything ", Michael Munk says. And a major search for the right supplier had begun.
"So we researched the field of pumps and gear, and then we called someone who told us; Grindex - is just the top of the doll. So of course, we went with it, " Morten Jensen says. He is the workshop director at ETK.
"Elmodan came with the professional knowledge and guidance. We did not know anything about pumps, but Elmodan did, and they did what they could to meet our needs, " Michael Munk explains.
At Elmodan, the assignment was not unknown. After a good dialogue and guided by Elmodan, ETK decided to purchase two "Climate Trailers" and a powerful 10 inches diesel pump.
"It was an exciting task," Lars Ingemann says, the owner of Elmodan, who received the call from ETK.
"ETK really needed some heavy equipment, and it was a challenge to get a pump of such a great caliber, but it all worked out and we found a good solution for them," he explains.
A total solution. On a trailer.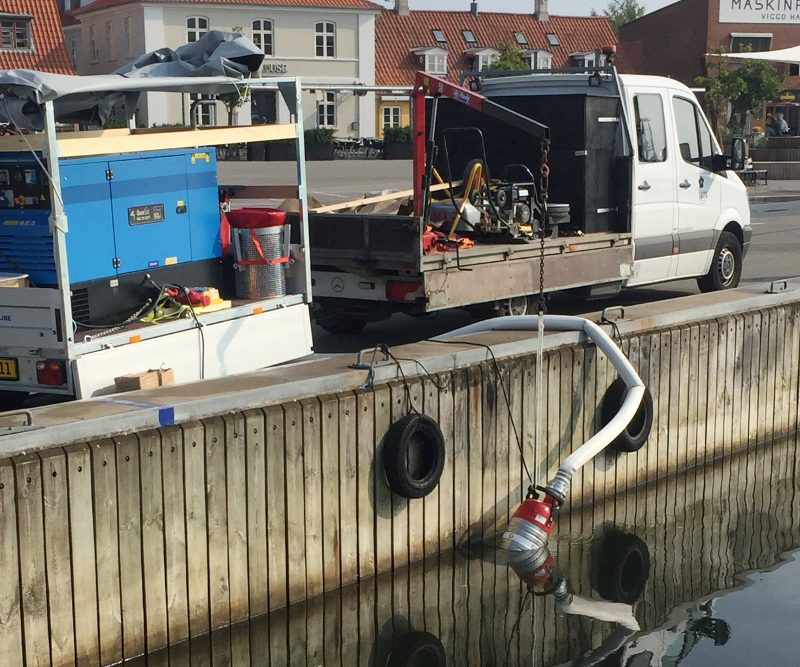 In addition to the big 10" pump, Elmodan made a total solution on a trailer with some more "handy" pumps for smaller tasks. That way, ETK covered their needs for different sizes of pumps for their material fleet.
The climate trailer is an oldie for Elmodan who have composed it before. It is Elmodan's recommended climate package with a number of products, that we know are good to have in order to be ready for when large amounts of water are coming.
ETK was delivered two trailers that are ready for immediate emergency.
Each trailer contains:
- A pump raft
- A hose reel
- Hoses, couplings and wrenches
In addition, one trailer holds 2 Grindex Major N 4" drainage pumps, while the other trailer is packed with a Generac 4" diesel pump with associated suction hose.
ETK is now perfectly calm awaiting the next disaster. Both trailers are ready for immediate emergency. So now mother nature can just bring it on, the two representatives from the municipality confidently tells. "Now we finally have our own equipment. And it's not even too much. There probably won't be less water floods in the future," Michael Munk says on a final note.
Link to Elmodan's climate trailer:
http://www.elmodan.dk/markedspladsen/klimapakken