Nopporn Express
Sepon Copper Mine, Savannakhet, Laos
Pumping hard-wearing mine media in extreme conditions calls for a mega solution
When the Sepon mine was having continuous problems with their submersible pumps, it was left to Grindex to prove to them that submersibles could do the job in hand. They just needed Grindex mega pumps, Grindex pontoons, and a flexible operating solution. Sepon Copper Mine is located in the Vilabouly district, in the remote southeast Savannakhet province of Laos. The mine has an annual production of around 80,000 tons of Grade A copper cathode. The copper is mined in a series of open pits using conventional drill and blast load and haul methods.
A continuous submersible problem
Sepon has a fleet of diesel-driven, self-priming centrifugal pumps to handle dewatering. Over the years they have also used submersible pumps to complement the fleet, but with little success.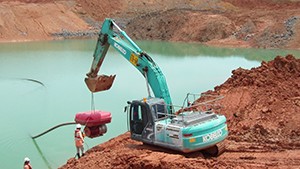 According to Joe Srichumphon from Grindex's Thailand distributor, Nopporn Express, "Sepon approached us looking for a submersible pump solution. They wanted reliable submersible pumps with high flow capabilities. The pumps also had to be tough enough to handle the low pH mine media, and be easy to move around. Sepon had tried a variety of submersible pumps in the past but had encountered regular breakdowns. They had also found them cumbersome and difficult to handle, particularly with their large heavy steel pontoons. It became clear to me that Grindex pumps were the obvious answer to their problem."
Extreme conditions require extreme pumps
In order to provide the optimal solution, a team of engineers from Grindex and Nopporn Express visited the Sepon mine. The teams initial fears were quickly confirmed when they saw the site requirements. "There were a number of aspects that we had to overcome, beyond providing high power pumps that could handle hard-wearing mining media," continues Srichumphon. "Water needed to be pumped at heads of 40 to 70 metres and access to mains power was fairly limited, which could obviously cause problems. Also, the region is subject to severe weather conditions that can change rapidly, so we needed to design a solution that was easy to relocate as and when required."

Mega pumps to the rescue
As a result of the site inspection, two Grindex cast iron Mega N pumps were supplied to the mine, along with Grindex flotation pontoons. The pumps were fitted with stainless steel wet ends and had epoxy coating to combat the low pH of the mining media. To provide the flexibility to pump in areas with no mains, soft start control panels that could be used in conjunction with generators, and over 100 metres of cable, were also provided. This also made it much simpler to move the pumps when necessary.
Trouble free submersible pumps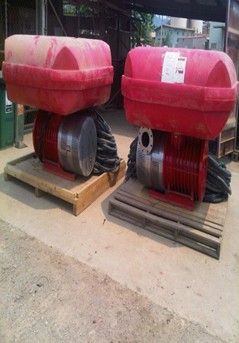 Since the pumps went into operation at the Sepon Copper Mine, the views on submersible pumping have changed. According to
Mark Hanna, the site de-watering and water management manager, "The performance of the pumps has exceeded our expectations.
The compact pump and pontoon combination has been great. I could never have imagined they would have been so small,
it makes the pumps very easy to move and deploy. The pumps
have been operating trouble-free since installation and the support from the supplier with commissioning and regular follow-up has been first class."
Grindex Mega N pumps
The Grindex pumps in use in at the mine are Mega N-pumps.
The 90 kW pumps can handle up to 150 l/s and can pump media up to heads of 200 metres. The cast iron pumps can handle pH levels of 6 to 13, however, the stainless steel wet ends provide further protection.