Euroasia Tunnel Project
Istanbul
Another major tunnel project, another job for Grindex pumps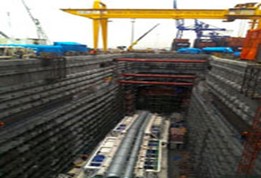 Once again Grindex pumps have been chosen to keep one of the world's most advanced tunnelling projects dry. The Eurasi Tunnel, which will stretch 5.4 km and connect Europe and Asia in Istanbul, will take 55 months to complete.

The Euroasia Tunnel Project is a 14.6 km route between Kazlicesme on the European side and Goztepe on the Asian side of Istanbul. It consists of three sections, widening and improvement of existing roads (including an extra lane) in Asia; construction of a two-deck road tunnel under the Bosphorus Staright; and widening and improvement of existing roads (including extra lanes) in Europe. When completed, the project will reduce the average travelling time between the two points from 100 minutes to 15 minutes.
Salt water, clay, silt, and gravel, all in a day's work

The tunnel section will be 5.4 km long. The tunnel will have a diameter of 13.7 meters to cater for two levels of traffic, plus a service tunnel. However, it will only be open to light vehicles, i.e., automobiles, minivans, and vans up to a certain size. Heavy goods vehicles, buses, motorbikes, and passengers will all have to use the existing bridges to cross the Straight.
The tunnel will, at the deepest point, be 106 meters below sea level. The shortest distance between the tunnel and the seabed will be 26 metres. The tunnel will pass through rock mass and sea sediment.
Tunnelling will move at a pace of eight to ten metres a day and is expected to take 55 months to complete. Throughout the project there will be intensive drainage requirements of abrasive media including salt water, clay, silt, sand and gravel.
Extremely tough drainage pumps for an extremely tough job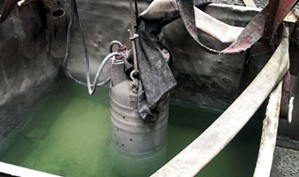 In order to pump such abrasive media, efficiently and effectively Grindex pumps will be used throughout the length of the tunnel. They will be strategically placed in boreholes where they will be in operation around the clock, keeping the tunnel dry. As the tunnel increases in length more Grindex pumps will be put to work to keep the tunnel dry and ensure there are no hold-ups due to flooding or excess water.
According to Peter Uvemo at Grindex "The construction team chose Grindex pumps because they are renowned for their reliability and ability to pump the toughest media. Grindex has a long history of providing pumps to major tunnelling projects. They are currently being used in the Yintau tunnelling project in China, a series of tunnels in North-west China, which stretch for more than 200km."
Major, Master and Matador
The Grindex pumps used during the 55 months include Major, Master and Matador pumps.
The Major can handle up to 40 l/s and can pump abrasive media up to heads of 45 metres.
The Master can handle up to 80 l/s and can pump abrasive media up to heads of 55 metres.
The Matador can handle up to 70 l/s and can pump abrasive media up to heads of 95 metres.